I started making "Man Cave" signs after visiting my sister. She mentioned that her hubby was down in his "Man Cave". I thought it was very appropriate description as this is the place where he could smoke, drink, grunt, fart...and do whatever else "men do"! LOL!
So that was the inspiration for the theme. This one is classic, I think! Since then I have added a few more....
This one should be posted at the entrance to every man cave as a warning to humankind (women) that she is entering the twilight zone!
And just in case you've forgetten the rules....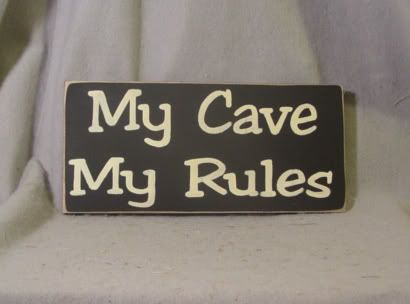 Men are definitely from Mars as the book title suggest....they should be a species unto their own...it's hard to figure out sometimes what makes them tick other than the obvious...how their mind works...well that's a scary place to visit! Anyway, I know as the mother of 3 boys, that I wouldn't trade them for a gaggle of girls! So here's to the "Men" in my life! I celebrate you! Not to mention I didn't want to make you feel left out with all the divaness from yesterday! LOL!