Well it's craft show season again. I did the Leeport Farmers Market Craftshow this past weekend. It's a huge show that is held under 2 covered pavilions and in an open field. When I first started back in 1994, I use to set up in the field. After years of being there I eventually ended up in my current space under the "pole barn" pavilion on the end. I love my new spaces...no worry about bad weather anymore and getting wet.
The early morning didn't hold out too much hope as it was raining when we arrived to set up at 5 am but the weather soon cleared and held out for the day. Lots of customers showed up to make their purchases. I took these pictures on Sunday so my booth looks a little picked over and sparse.
The hired help sure was worn out from the weekend as you can see in this picture. My craftshows are usually a family affair. I've raised my boys on them. My youngest was at his first official craftshow when he was just 6 days old...of course we were just there visiting friends for that one. We did our first one with him when he was a month old and it just happened to be the Thanksgiving show at Leesport. Anyway, I have been doing craftshows fulltime since my middle son Josh, sleeping beauty in the picture, was a toddler.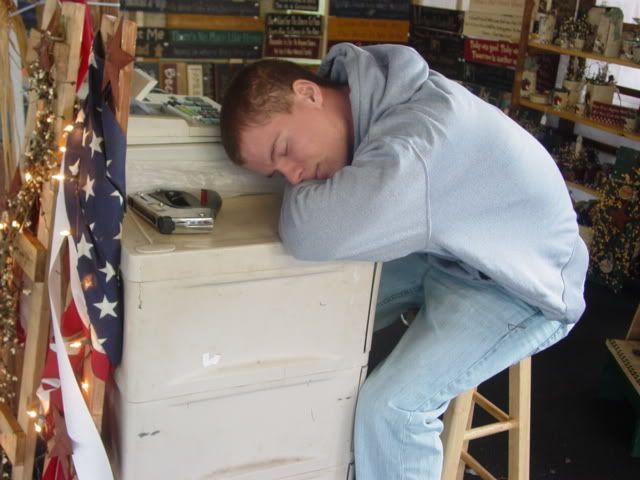 Raising my boys to help at the shows have made them the people that they have become. They have a good work ethic...it takes hard work to make a living. They have learned great math and money skills...from being able to return the correct change to budgeting their pay, and yes I do pay them to help! They have also had to learn how to interact with people. My boys can talk! LOL!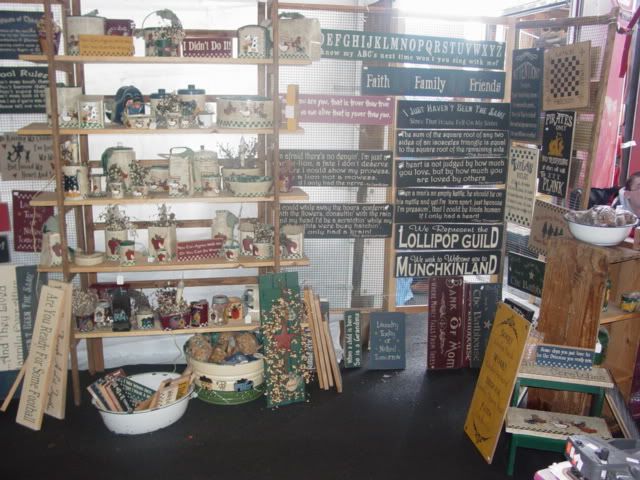 Anyway, if you are ever in the Reading Pa area when the Leesport Craftshow is going on, stop by and say hi...I'm in space 234, 235 and 236 in the pole barn. The craftshows are held 5 times a year. Usually a weekend or two before Easter is the first one, then the Saturday before Mothers day, the Saturday after July 4th, Columbus Day Weekend and Thanksgiving Weekend. For directions and further info on the show go to
www.leesportmarket.com
.