Isn't this the cutest plate? And I love the plate holder too. Two completely different suppliers but yet they compliment each other so well.
I am very fortunate to live where I do as we have some of the best wholesale shopping closeby in Lancaster, PA. I live about an 1 1/4 hours south of the area and get the opportunity to go rather frequently.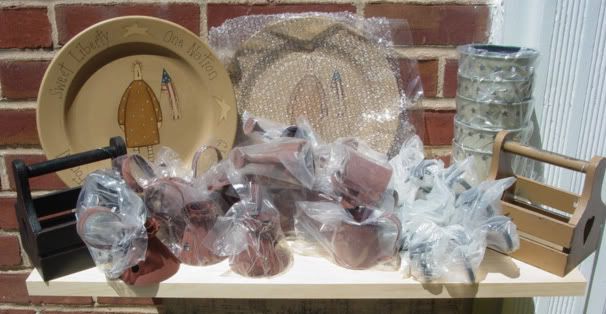 (Some rusty tin watering cans, taper holders, star votive holders, wrought iron plate holders, 2 americana plates and 2 cute little prim totes.)
On my recent trip yesterday, we started off by stopping by Basket Warehouse outside of Manheim. I meet my girlfriend Sharon there but of course she was late. She had a valid excuse...seems like as she was starting to pass by some yardsales they began to call her name. Being the bargain diva that she is, Sharon just had to stop and see what was being offered. She arrived at Basket Warehouse, with a wingback chair and a few other goodies packed in her truck. Anyway, on to our shopping expedition. Basket Warehouse had the cutest new line of products, the plate and plate holder being some of them. Since I'm in a patriotic swap, I couldn't resist purchasing one for myself and my swap partner too....now to just hope she doesn't read my post til after her package arrives. I don't like purchasing imports but for the price, I
couldn't pass it up.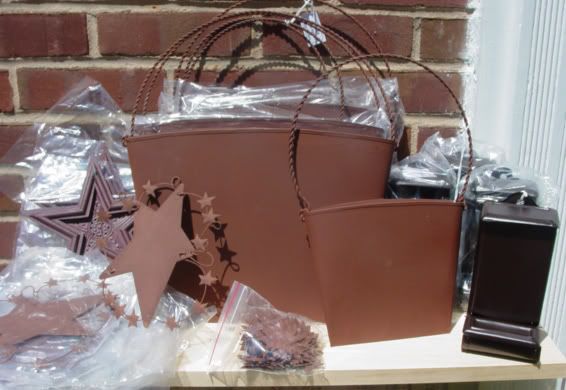 (Some rusty wall pockets, rusty star garlands, metal match holders, a bag of small rusty stars to use as accents and 4 tin and wood frames stars.)
Our next stop after we wound our way through the backroads, over hills and dales was CDM. They were not very well stocked, which is somewhat disappointing. Can't buy what's not there.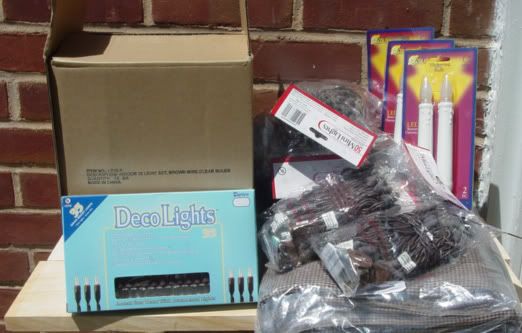 (35 and 50 count brown wire lights, battery operated tapers and 10 yds of blue checked fabric.)
We then wound our way down Rte 772 to Amish Trader Country over in Paradise. Of course along the way we passed many Amish farms, a one room Amish school house and a one lane covered bridge. Amish Trader Country has really expanded their selections. There I was able to pick up 10 yards of mini blue checked fabric, 7" barn stars, some soap pumps and rusty jar lids and a few grubby candles.
(7 and 12" barnstars, soap pumps, rusty jar lids, grubby candles, more star votive holders)
Next stop was Amish Trader Imports...yep, another Amish Trader. They were actually partners at one time both having separate but combined efforts at making the business a success. After many years together, Gil and Gary have parted ways and have both taken their businesses into a high profitable directions. I have to say of all the wholesalers that we do get to visit, Gary, the owner of Amish Trader Imports, is the nicest, friendliest person. He always says hello and is right there in the trenches, unloading, restocking and checking out customers.
(24 pip berry garlands)
Of course there are many other wholesalers in the Lancaster area including Primitives By Kathy, Audreys and Little Valley...but there are never enough hours in the day to visit everyone.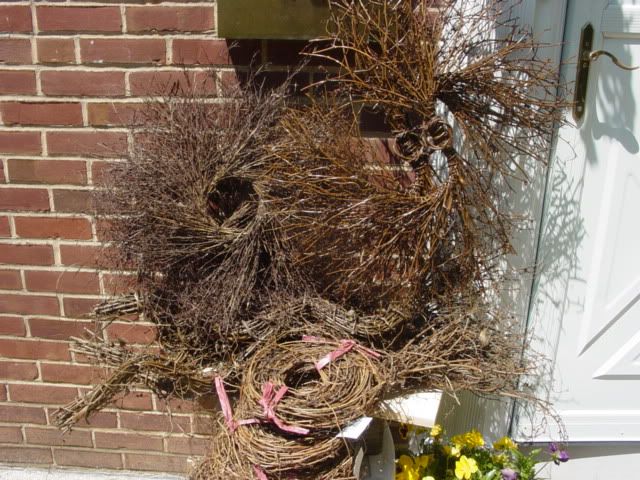 (dragon vines, wreaths, s vines and grapevine on a roll. One of the grapevine rolls is for my friend Pat to see if it will work as decoration for her daughters upcoming wedding. Yep, Pat had her own personal shopper!)
Our last and final stop was to get a bite to eat. Wholesale shopping can work up an appetite. We asked for recommendations for eateries in the area from one of the employees at Amish Trader Imports and she suggested a few places closeby one being Isaacs. Well we had the best wrap ever. It was called the magpie. Chicken with spinach, pesto sauce, ranch dressing, asiago and parmesan cheese, provolone, and bacon all wrapped in a flour tortilla. Yummo! When talking to our waitress, we found out that Isaacs has about 20 locations in the PA area, so if you ever stumble across one, you should stop in and try the Magpie wrap. You won't be disappointed.
(I have to say I pick one thing each time that I just love and this little rusty taper holder and battery operated taper are it. I can't wait to paint the holder and grubby up the taper)
Of course the wholesale warehouses are only open to the trade. You need a sales tax license number and other credentials to be able to make purchases. Each wholesaler has their own separate requirements and it's best to call to find out which documents each need before making the trip. But I would say if you are ever in the Lancaster area, and do meet their qualifications, that they are a must see.
(This picture is a pile of my purchases....a little smaller than usual but still enough to keep me busy for a few days!)