It was nice outside finally on Friday, so out came my boys pet rabbit for a hop around the yard.
We inherited "Toonies" almost 2 years ago. A neighbor said there was a bunny hopping around another neighbors yard....nothing unusual about seeing a bunny...but it was a pet bunny. A cute little lopped eared bunny. So off my boys went to catch him to see if we could find his rightful owner. After searching for days, without any luck, we decided we would give it a home. So the boys and my hubby built a hutch for the bunny.
About 3 weeks after we had the bunny, one of the other neighbors saw it and said, "Hey that looks like Nugget". We then determined that it was indeed Nugget. Problem was the 2 college aged girls that Nugget belonged to had moved right after he was found. They didn't have a care in the world about the cute little bunny that they had gotten as a gift for Easter a few months back. Anyway, we took the bunny in and named it Petunia.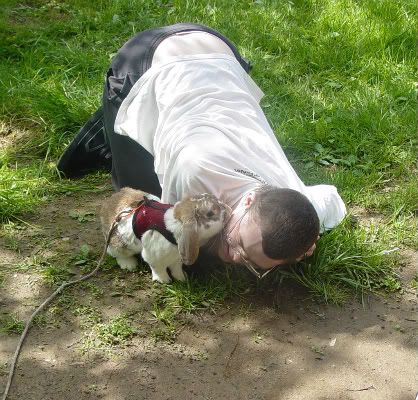 Toonies giving Sean bunny kisses
After a few months, Ian, my 13 yr old came in from being outside with the bunny and stated that he didn't think that Petunia was a girl. I asked why he thought that and of course he proceeded to tell me that Petunia had hit puberty, well puberty for a bunny! LOL! So, we decided to not give the bunny a gender identity crisis and called him Toonies which wasn't too far off from Petunia.
He's the sweetest little bunny. Loves giving bunny kisses. Ian and Sean take him for walks with his harness and leash. He loves getting out of his hutch and exploring the yard.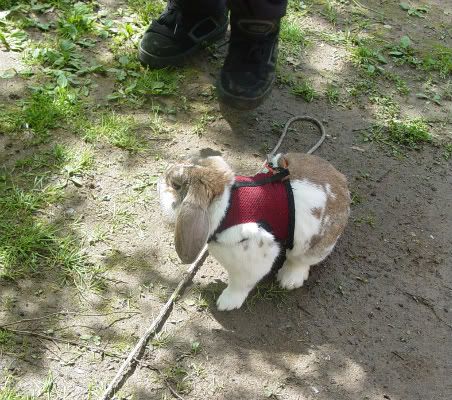 Toonies showing off his harness
His favorite foods I would say would have to be apples. He gets all kinds of treats and is a rather spoiled bunny. Ian gives Toonies a prune, yep, you heard right, a prune each morning before heading to school. If for some reason Ian forgets, Toonies, becomes a grumpy old bunny and will turn his back and ignore you over in the corner of his hutch.
Having Toonies has taught Ian to be responsible for something else besides himself. For the most part he does a good job taking care of Toonies. He has Sean, his older brother help in his care. Sean has come along way in helping too. From 10th grade animal science where Sean would stand over and guard the bunnies that the class were in charge of by standing over them, to actually getting on the ground with our pet rabbit and interacting with him. Sean will also give Toonies treats and go visit and talk to him. I guess it's all those bunny kisses.