I was able to get out to the flea markets today, finally after the cold winter months. It turned into a beautiful day but the morning start at 6 am was a little chilly at 22 degrees. BRRRR!
Anyway, I went to one of my favorite fleas and found lots of treasures to paint. I was able to find 3 pairs of baby shoes, 2 sifters, 2 milk bottles, 3 bundt pans, 7 spice tins, 7 silver soup spoons, 2 alumiunum heart shaped pans, a tall wood bowl, a pineapple bowl, a vintage coffee can, a rolling pin, an aluminum coffee pot, a orphan glass cake plate and a 4 sided grater. I can't wait til I can get things washed up, primed and ready to paint. New "junque" always gets my creative spark lit! The best thing is that I only spent around $30 for all my treasures.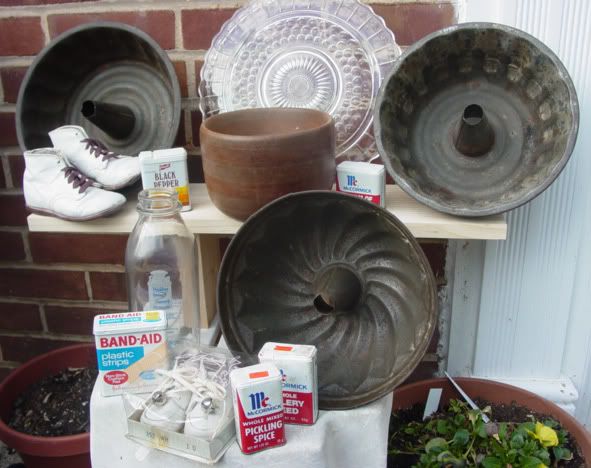 I can't wait for warmer spring mornings as more vendors will be set up and of course that means more treasures! So if you are ever in the flea markets in the Mid-Atlantic area, lookout for a frantic woman pulling her granny cart...I may just mow you down to get to that special treasure first!