Be sure to stop by The Firecracker Kid's blog and enter for a chance to win Carol's giveaway. She is giving everyone 4 chances...yep that's 4 to win a great
Rolling Pin Dough Bowl Keep.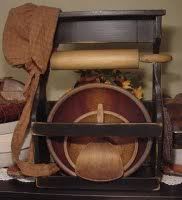 Carol hasn't had her blog up and running that long but it looks like she's off to a wonderful start here in blogland. So be sure to stop by her blog to enter(secretly I'm wishing you won't since I'd have a better chance at winning) and while you are out surfing the net, why not stop and check out her
etsy
shoppe too?